First Lutheran Church
Brothers and sisters of Christ
Called by the Holy Spirit
To share the Good News of salvation
With all People!
Worship Opportunities:

Services of Word and Sacrament
Saturdays - 5:30 p.m.
Sundays - 10:45 a.m. (9:30 a.m. - Summer)
Prayer Service for Healing
Third Sunday Every Month - 11:45 a.m
(10:45 a.m. - Summer)
Ashcom Chapel
Learning Ministry
Sundays
Learning Hour and Adult Study - 9:30 a.m.
To Contact Us:
First Lutheran Church
415 Vine Street
Johnstown, PA 15901 Directions

Phone: 814-536-7521
Fax: 814-536-0855

email: firstlutheran@wpia.net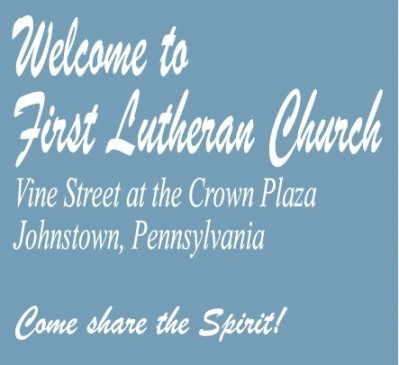 Easter Services
5:30 p.m. Saturday. Easter Vigil. Similar in format and length to our regular Saturday evening services but with a theme of pre-Resurrection. Communion.
7:30 a.m. Sunday. Resurrection service with Communion.
8:30 a.m. Sunday. Breakfast. All are welcome.
10:45 a.m. Sunday. Resurrection service with Communion.

Our Ministry is Served by:
PASTOR: The Rev. Eleanor Abarno has retired.

LEARNING MINISTRY ASSOCIATE: Barbara J. Pingatore, R.N.

DIRECTOR OF MUSIC: Matthew J. Beckman

PARTNER IN MISSION: The Rev. Dr. Jeffrey Truscott

PASTOR EMERITUS: The Rev. Dr. Robert G. Swanson
Please note that pastoral care and administrative needs will be handled by Pastor Carol Custead and Pastor Scott Custead of Mount Calvary Lutheran Church. Mount Calvary's phone number is (814) 266-4859.